Welcome to Matrix Excavation LLC
Matrix Excavation LLC in Hamburg, NJ is your premier destination for all types of excavation services. We have been providing top-quality service to residential and commercial clients in the entire state of New Jersey and the surrounding tri-state area with the confidence of many years of experience behind us and firsthand knowledge of unique and site specific problems that may arise. The staff at Matrix has experience and training to handle all types of complications, including the owner who personally has over thirty years' experience giving us the ability to be the solutions to your problem! Customer satisfaction is our primary focus. From your first call to the office to the day we finish your project, we ensure that our highly trained employees efficiently complete the job to your liking.


We Specialize In:  

Foundation Repair
General Excavation Services

Repair/Replace Underground Utilities (Sewer, Water, Drainage, Etc.)
Groundwater Remediation


Soil Remediation
Oil Tank Installation and Removal
Experts at Excavation
 
Matrix Excavation LLC is fully insured and licensed by the New Jersey Department of Environmental Protection. We offer our expertise at competitive rates to all of our residential and commercial clients. Our proficient excavation contractors will conduct a site evaluation and professionally manage any project that you hire us to handle.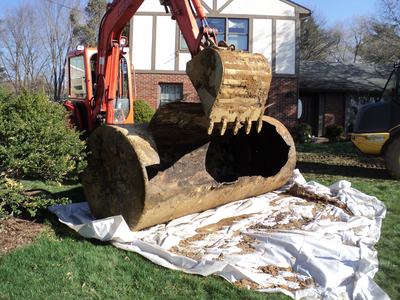 Available Funding
 
Thanks to the New Jersey Department of Environmental Protection, there are financial funding options available. Matrix has since been notified that, although the fund still exists, it will not be in operation for assistance again until 2019. You may still apply and when funding is restored, all applications will be reviewed and potential reimbursement for out-of-pocket costs will be supplied.
 
To look at UST fund FAQ's, click here.
 
For the UST fund application package including instructions and all of your application needs, click on here.

Our Licenses and Certifications:
Certified Granby Industries Tank Installer
Dept. of Environmental Protection Lic. ID# 0011069
Dept. of Environmental Protection (Underground Storage Tank Certified) Lic. ID# US508095
New Jersey Home Improvement Contractor Lic. ID# 13VH03131100
Our Sister Company

Our sister company, Advanced Pier and Support, was founded in 2007 and provides steel beam, mini pile, and helical pier construction services to the tri-state area. Advanced Pier & Support can raise and lower houses as well as work with Matrix Excavation LLC to stabilize your home, fix the foundation, remove under-home tanks, and support underground utilities. They are also an approved Grip-Tite helical pier installer.

Helpful Links

The following links may be helpful to customers looking for answers to their excavation projects. If you have further questions, you can contact our office.


N.J. D.E.P Homeowners Guide
N.J. D.E.P Underground Storage Tank Information
U.S. Environmental Protection Agency
Matrix Excavation LLC

9 Limekiln Rd.,
Hamburg, NJ 07419
 
Phone: 973-209-6587
Fax: 973-827-2122

Email

Click here to see our photo album.
Areas Served:
General Excavation Work in the Tri-State Area
Our Associated Contractors:
Engineering Services
Kluk Consulting
2 Eastwick Dr.
Unit 2,
Gibbsboro, NJ 08026
Phone: (856) 566-0013
Environmental Oversight
Phoenix Consulting
P.O. Box 229,
Phoenixville, PA 19460
Phone: (610) 935-3527
Geoworx Consulting
1802 Rt. 31 N. #376,
Clinton, NJ 08809
Phone: (908) 638-4824
Hours of Operation:
Monday to Friday – 8am to 5pm