Foundation Repair Services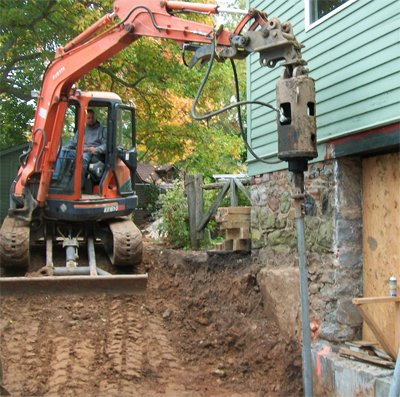 Advanced Pier & Support assists residential and commercial property owners with all of their foundation problems. Whether you're faced with a sinking foundation, contamination spread under your home, or a leaning basement, we can solve your problems. Each year thousands of people just like you face foundation repairs due to settlement. We specialize in steel beams and steel piers. We are a licensed Grip-Tite dealer. New Jersey Home Improvement Contractor Lic. ID# 13VH04840900
 

Common Causes of Settlement:
Construction on Poor Quality Soil
Erosion or Soil Movement Down Sloping Sites
Excessive Moisture Due to Plumbing Leaks, Poor Drainage or Flooding
Improper Construction Techniques or Design Errors
Decomposing Buried Debris
Determining the cause and solution for your home or business's foundation problem is our specialty. At Advanced Pier & Support, we work with you from the initial phone call to job completion to ensure that you understand what we are doing at all times. Contact us today to find out more about our product and service options.
 

Helical Piers:
Advanced Pier
& Support

9 Limekiln Rd.,
Hamburg, NJ 07419
 
Phone: 973-209-6587
Fax: 973-827-2122

Email

Click here to see our photo album.
Areas Served:
General Excavation Work in the Tri-State Area
Our Associated Contractors:
Engineering Services
Kluk Consulting
2 Eastwick Dr.
Unit 2,
Gibbsboro, NJ 08026
Phone: (856) 566-0013
Environmental Oversight
Phoenix Consulting
P.O. Box 229,
Phoenixville, PA 19460
Phone: (610) 935-3527
Geoworx Consulting
1802 Rt. 31 N. #376,
Clinton, NJ 08809
Phone: (908) 638-4824
Hours of Operation:
Monday to Friday – 8am to 5pm
The image to the left is a diagram showing helical piers after installation.
Helical piers are hydraulically driven into solid earth and rock below the footing of your house or business. They are securely attached to heavy, duty brackets which are then bolted to your home's footing. This allows for the weight of your house to be firmly supported by the piers.

Mini Piles:
Mini piles are capable of being drilled in to almost any surface be it natural or artificial. This gives the mini pile an extra efficiency over helical piers as they can be stopped by ledge rock and large boulders found in the ground. When excavating under a home, you want the foundation to be stable to avoid cracks and bowing of the structure, but especially for safety reasons. Mini piles can be drilled through any type of rocky soil to create a secure and reliable underpinning at extensive depths that follow the guidelines of a structural engineer. The technique and equipment used to drill in the mini piles are designed to work in tight spaces and with restricted headroom.